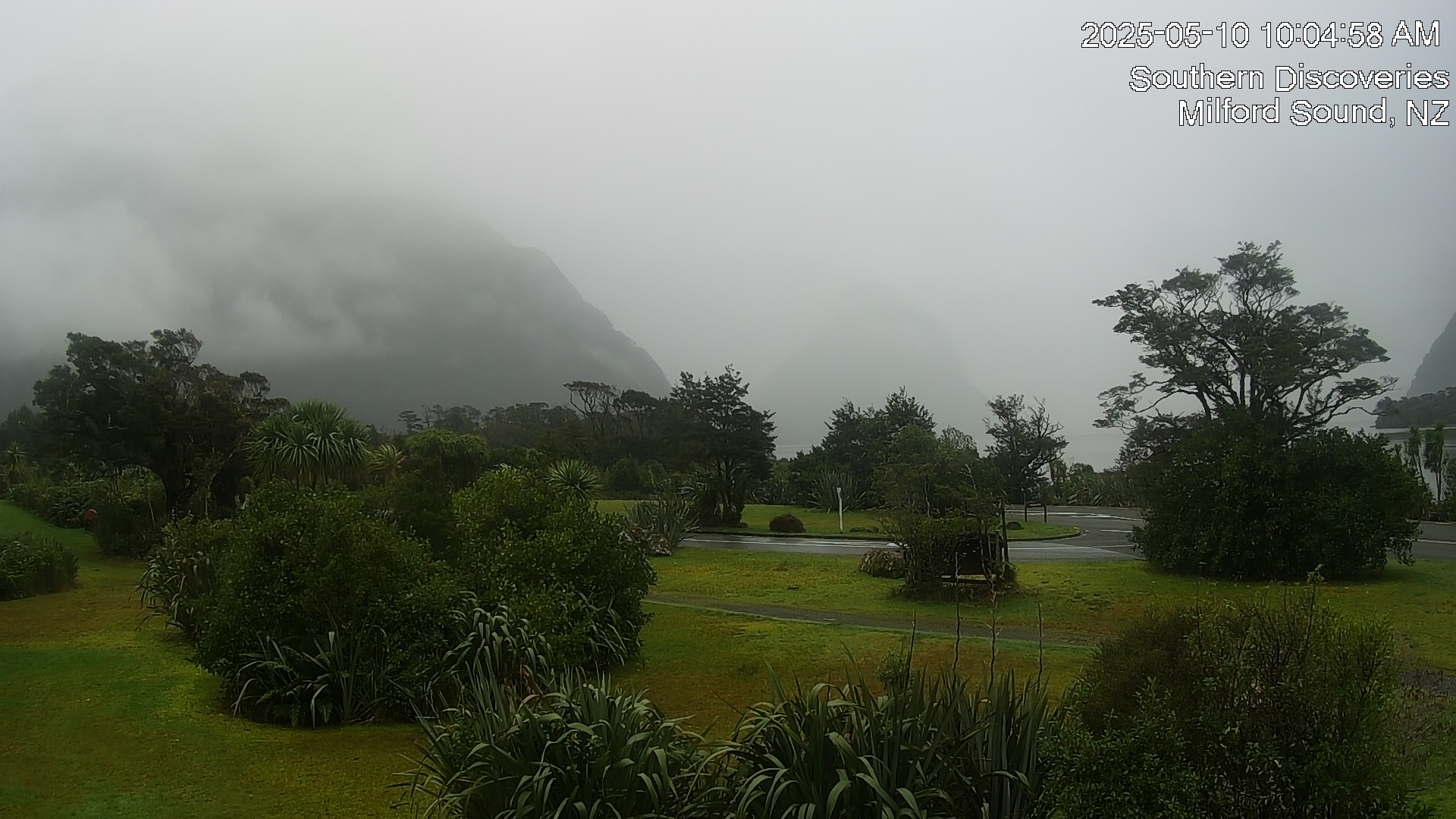 Milford Sound Webcam
Milford Sound – the southern hemisphere's most spectacular fiord environment

Visitors travel from all over the world to witness the staggering beauty of Milford Sound. Also known by its Māori name, Piopiotahi, this mighty South Island fiord formed by ancient glacial movement is one of New Zealand's most treasured natural landmarks. A visit to Milford Sound is a journey into a spectacular landscape, one that will take your breath away regardless of whether the sun is shining or the rain is falling.
With an average yearly rainfall of 7000mm (7 metres) , Milford Sound is one of the wettest inhabited places on earth and one of the best places to experience the power of nature. Exceptional rainfall produces Milford's famous waterfalls as well as its unique underwater ecosystem where sea and fresh water meet.
Milford Sound is located within Fiordland National Park, an area that has held UNESCO World Heritage status since 1986. The pristine environment provides a perfect habitat for birdlife and a safe haven for dolphins, fur seals and endangered penguins.
Explore Milford Sound by car, coach, cruise, kayak or scenic flight. Stay awhile to hike, eat and visit the underwater observatory. For a memorable Milford Sound experience, stay a night at Milford Sound Lodge and appreciate the solitude and peace of this unique wilderness location.
Ready to discover Milford Sound?
On the water
The 16 km journey from the head of the fiord to the Tasman Sea reveals Milford's active geological past. See evidence of fault line pressure cracks and striations left behind by ancient glaciers. Today, the deep, calm waters of Milford Sound are the perfect place for cruising and kayaking. See all Milford Sound tour times and discover how to visit the underwater observatory. Explore Milford Sound Cruises.
In the sky
One of the best ways to take in the immense size of Fiordland National Park is from above. On a scenic flight to Milford Sound, soar above the Southern Alps and its many glaciers, hidden alpine lakes and beech forests before landing near the Milford cruise terminal. Get all the details on how to book a Milford Sound scenic flight by fixed-wing or helicopter. Explore Scenic Flights.
On the road
Sit back, relax and take the coach from Te Anau to Milford Sound, or Queenstown to Milford Sound. See why the road to Milford Sound is as famous as the final destination. With an expert coach driver, enjoy fascinating commentary as well as photo stops and short walks along the way. Discover our glass-roof coaches and how to book your coach trip to Milford Sound. Explore Milford Sound Tours.
All you need to know about Milford Sound
Milford Sound is the best-known and most accessible fiord in Fiordland National Park. Located in the south-west corner of the South Island, Milford is famous around the world for its impressive scenery.
Getting to Milford Sound
The road to Milford Sound is also considered one of New Zealand's most spectacular experiences. Here, we'll give you our top travel tips and tell you the best ways to access Milford Sound. Learn more about the easiest ways to get to Milford Sound.
Milford Sound Weather
Some of the best days in Milford Sound are the wettest. Here, rainfall can reach up to 250mm in 24 hours and turn on dozens of waterfalls which cascade down the sheer mountainsides into the fiord. Check out today's weather on our Milford Sound webcam.
All you need to enjoy Milford Sound on a rainy day is a good jacket. We share everything you need to know about the weather in Milford Sound, what to wear and the best time of year to visit.
Learn more about Milford Sound weather.
Where to Eat
Even in the remote rainforests of Fiordland, it's possible to find a good coffee. Dining options in Milford Sound are limited, but if you know where to go, you can grab a barista-made coffee and fresh, cafe food before or after your Milford Sound cruise. We tell you all the best spots to eat in Milford Sound. Discover where to eat in Milford Sound.
Where to Stay
In a secluded riverside location, Milford Sound Lodge is an exceptional way to experience Milford overnight. An unforgettable accommodation experience amongst the rainforest, birdsong and waterfalls. Find out how to book your stay in a chalet at Milford Sound's only accommodation provider. Find out where to stay in Milford Sound.
Day Walks
Take a little time and explore the South Island's impressive native beech forests by foot. Many of the most spectacular day walks are accessed from the Milford road. Whether it's a short photo stop or the challenge of a mountain pass you'll find your perfect bushwalk on the way to Milford. We'll show you where to find the best stops along the road to Milford Sound.
Get all the details on walks near Milford Sound.
Southern Discoveries History
From the first known Māori inhabitants over 1,000 years ago to the pioneers who forged the first tourist trail through the forest, Milford Sound has enticed all those who lay eyes on it. Milford Sound's history is a fascinating one and is full of stories of perseverance and challenges. Take a closer look at Milford Sound throughout history. Discover the history of Milford Sound.
DISCOVER TE ANAU
Just a two-hour drive from Queenstown, Te Anau is a small town on the edge of breathtaking Fiordland National Park. If you are planning to drive to Milford Sound, give yourself a day or two to explore this relaxing lakeside township.
Te Anau offers hiking, boating, lake activities, accommodation, restaurants and plenty of places to stock up on outdoor gear.